The Atlantic bottlenose dolphin (Tursiops truncates) is one the biggest dolphins I have seen. Only Pilot whales , beaked dolphins, and Orca's are bigger. There is a small difference in beween this species and that's the more coastal orientated Atlantic bottlenose dolphin and the open Atlantic Ocean bottlenose dolphin. Both are the same dolphin but they realy look, and are, different and so is their behaviour. The open Atlantic Ocean bottlenose dolphin is bigger, has more scars, and they hunt on different prey. Also their pod size is different. The open Atlantic Ocean bottlenose dolphin travells in a realy large pod up to 250 individuals and they even hunt tuna. This dolphin is the most famous dolphin of all. They are very intelligent and they do have special skills to learn.
Their eternal smile is their biggest threat and because of that there is a "Flip(per) side to that coin" for them. Lets start with some information about the Atlantic bottlenose dolphin in general. This dolphin is an intelligent and social dolphin and they are beautiful to watch in the Atlantic Ocean. They are the most favorite dolphin to watch for human. Not just in the wild but unfortunately also in captivity. This dolphin species is the most "common" dolphin in so called "Marine wildlife parks" in the world. To understand more about these dolphins in captivity please watch the following documentaries: The Cove and Blackfish.
An adult Atlantic bottlenose dolphin wiegh about 400 – 600 KG and their lenght is than about 2-4 meters. A new born calf weigh about 10-15 KG and their lenght is than approximately 1 meter. An adult Atlantic bottlenose dolphin gives birth to a single calf during the summer after a gestation period of 18-20 months. The interval between giving birth to their calves is usually 3-6 years, and lactation lasts 18-20 months. Their estimated lifespan is aproximately up to 45 years. A normal pod size contains about 20 up to 250 individuals and they feed on various types of fish, octopus, and deepsea fish. They can dive till a maximum of 500 meters of depth for a maximum time of 10 minutes. This photo is about an Atlantic bottlenose dolphin near the coast of Madeira. Finally, did you know this dolphin species often travels together with Pilot whales, and Pilot whales do not like Sperm whales at all?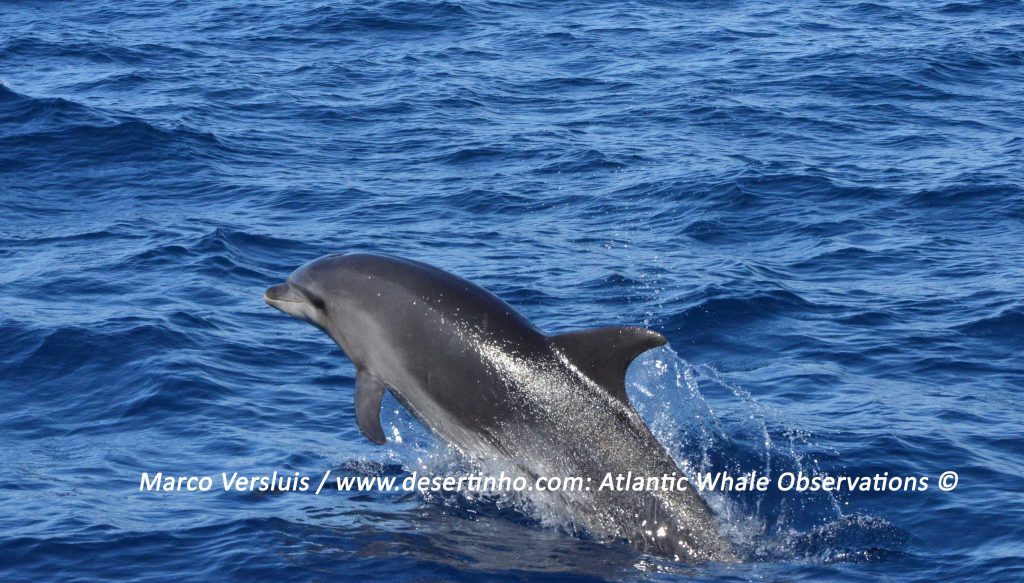 De Atlantische tuimelaar (Tursiops truncates) is de op een na grootste dolfijnen soort die ik heb gezien. Alleen de Griend, de gesnavelde dolfijn, en de Orka zijn groter. Toch is er een belangrijk verschil binnen deze dolfijnen soort te benoemen namelijk de aan de kust voorkomende Atlantische tuimelaar en de in de open Oceaan levende Atlantische tuimelaar. Beiden dolfijnen zijn dezelfde soort dolfijn maar zijn heel verschillend in hun uiterlijk en in hun gedrag. De in de open Atlantische Oceaan levende tuimelaar heeft veel meer littekens, is groter, en jaagt op heel andere vissoorten dan zijn soortgenoot. Belangrijk te benoemen is dat ook hun pod size veel groter is en dat deze soms wel uit meer dan 250 dolfijnen kan bestaan en dat ze bijvoorbeeld op tonijn jagen. De tuimelaar is de bekendste dolfijnen soort die er is. Hun eigenschappen zijn dus heel bijzonder. Vanwege hun intelligentie hebben ze de capaciteit om zich dingen (aan) te kunnen leren.
Hun eeuwige glimlach maakt hen nog kwetsbaarder. Deze bijzondere eigenschappen hebben echter ook een vervelende keerzijde voor hen want de Atlantische tuimelaar is een zeer intelligente en sociale dolfijn. Voor mensen zijn zij dan ook de meest bekende dolfijnen soort. Helaas wordt de tuimelaar, vanwege deze bijzondere eigenschappen, net zoals de Orka overigens, het meest in gevangenschap gehouden in de zogenaamde "Marine wildlife parken". Wil je meer weten over hoe dolfijnen in "Marine wildlife parken" terecht komen, en hoe hun gedrag aldaar is, bekijk dan de volgende 2 indrukwekkende documentaires: The Cove en Blackfish.
Een volwassen Atlantische tuimelaar weegt tussen de 400 – 600 KG en hun gemiddelde lengte is 2–4 meter. Een kalf weegt circa 10-15 KG bij de geboorte en is dan bijna 1 meter lang. Volwassen dieren krijgen 1 kalf in de zomer en het kalf drinkt dan bijna 2 jaar lang bij de moeder. Normaal krijgt een volwassen dier eens in de 3 tot 6 jaar een kalf. De gemiddelde leeftijd van deze soort is ongeveer 45 jaar. Hun familie, ook wel een "Pod" genoemd, bestaat gemiddeld uit 20 tot 250 dieren. Op het menu van de tuimelaar staan diverse vissoorten, octopus, en diepzee vis. Ze kunnen tot 500 meter diep duiken en blijven dan maximaal 10 minuten onder water. Wist je overigens dat de Atlantische tuimelaars en grienden vaak samen reizen en dat Grienden niets te maken willen hebben met de Potvis?