The Humpback whale (Megaptera novaeangliae) is the 5th largest baleen whale (Mysticeti) of the Cetacea family. Humpbacks are the "butterflies" of the Oceans and they are the greatest singer / songwriters of all baleen whales. Humpbacks can tell you stories and they can sing like birds. Humpbacks mainly feed on krill and fish. An adult Humpback can range in length from 12 till 16 meters and their weigh is about 36 tons. A young calf measures 4 metres in length and weighs about 1 ton. Gestation lasts between 11 & 12 months. A female Humpback gives birth to 1 calf every 2 till 4 years. The body shape of a Humpback is very typical. They have extreme long pectoral fins and they have a "knobbly" head. These "knobbles", on the top of their head, are "hair follicels". Their long pectoral fins are important for Humpbacks when they want to impress other whales, especially other Humpbacks.
In 2014 we achieved an ultimate whale photo-id result to identify a Humpback 3 times in 8 years of time. In 2006 we spotted her in the Acores, in 2013 in the Cape verdian islands, and I photographed her, now together with another Humpback, in 2014 in the Acores again. I made this photo, last spring, in the Acores. A result to be proud of, and you can say, Whale Photo-ID project works out well.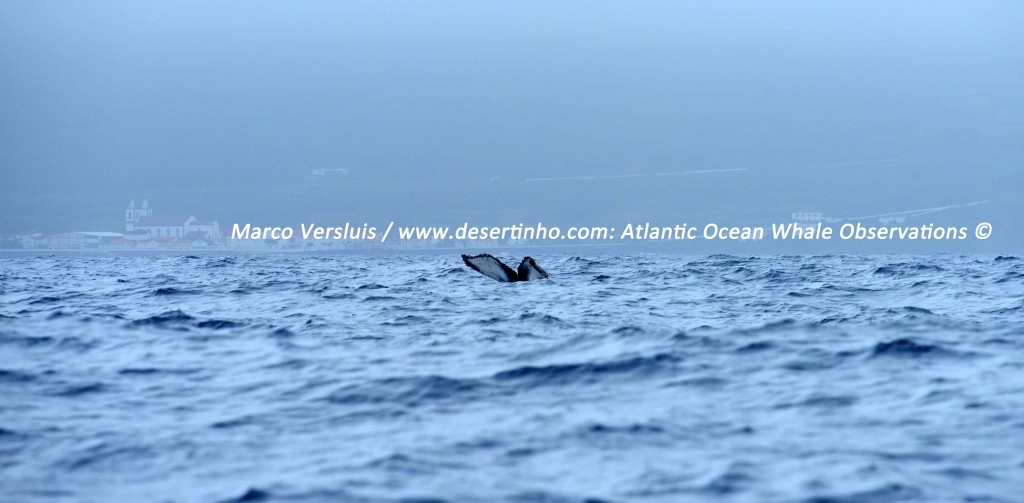 De Bultrug (Megaptera novaeangliae) is de op 5 na grootste baleinwalvis (Mysticeti) van de Cetacea familie. Ik persoonlijk vind de "Bultrug" de vlinder van de Oceaan en de beste "singer/song writer". Bultruggen vertellen je verhalen en zingen net zo mooi als vogels. Een volwassen Bultrug heeft een lengte van 12 tot 16 meter en weegt ongeveer 36 ton en hun voedsel bestaat uit krill en vis. Een Bultrug kalf is 3 tot 4 meter lang en weegt dan ongeveer een ton. De draagtijd van een kalf is 11 tot 12 maanden. Eens, in de 2 tot 4 jaar, wordt er een jonge Bultrug geboren. De lichaamsvorm van de Bultrug is heel bijzonder. Bultruggen hebben de langste voor vinnen van alle walvissen en ze hebben kleine bultjes (haarzakjes) bovenop hun kop en dit verklaart dan ook hun naam. De lange voor vinnen zijn heel belangrijk voor de Bultrug om andere Bultruggen mee te kunnen imponeren. Dit geldt overigens voor vrouwelijke en manlijke Bultruggen. De vrouwelijke Bultrug geeft aan, met het slaan van de voor vinnen op het water, geïnteresseerd te zijn in een manlijke soortgenoot, en de manlijke Bultrug laat op dezelfde manier zien, en horen, dat andere Bultruggen uit zijn buurt moeten blijven.
In 2014 bereikte ik het beste resultaat om een Bultrug voor de 3de keer, in 8 jaar tijd, te identificeren. De 1ste keer zagen mijn collega's haar in 2006 bij de Azoren, in 2013 bij de Kaapverdische eilanden, en in 2014 fotografeerde ik haar weer bij de Azoren. Geweldig om te weten dat Walvis foto-ID werkt.