The Risso's dolphin (Grampus griseus), Gramper, or gray dolphin, is the "wave rider" of the Atlantic. This dolphin species is very easy to recognize because of their bulbous head, like the Pilot whale and Sperm whale, and theire unique white gray collor pattern in combination with lots of scars. The Risso's dolphins are the so called "vertical hunters". They dive, like Sperm whales and Pilot whales, vertical into the Atlantic to hunt for their prey but on different sea depts as them. Besides the typical form of their head it is also very typical that this dolphin species has lots of scars all over their body. The older the Gramper, the more scars it will have. These scars are made by their prey, squid and lampreys, but also by teeth raking in between their own pod. Important to tell is that Grampers has a bigger temper than Pilot whales and they are often very aggressive against each other as well. Risso's dolphins are often very active on the water surface, engaging in behavior such as breaching, flipper slapping, lobtailing and spyhopping. Spyhopping is a very typical behaviour that some toothed whales do. Some whales that are "Spyhopping" as well are: The Sperm whale, Pilot whale, and the Orca.
A normal pod size of Risso's dolphins contains about 10-50 individuals and their swimming speed is about 40 km per hour. Hereby some Risso's dolphin facts: Adult Grampers weigh about 300–500 KG and their lenght is than in between 2-4 meters. Calves have a dark cape and saddle, with little or no scarring on their body. The age of a Risso's dolphin changes their coloration lightens from black, dark gray or brown to pale gray or almost white. A new born Risso's calf weigh about 20 KG and their lenght is than approximately 1.1 till 1.6 meters. A Risso's dolphin gives birth to a single calf during the summer after a gestation period of 13 till 14 months. The interval between giving birth to their calves is usually 3-4 years, and lactation lasts 15 months. The estimated lifespan of a Gramper is aproximately up to 35 years. They can dive till a maximum of 300 meters depth for a maximum time of 30 minutes. The first photo below is about 3 adult bull Risso's dolphins and they are about 25 years old. These Risso's are well known in the Acores as the "Inkepingbullen" from the S27 pod.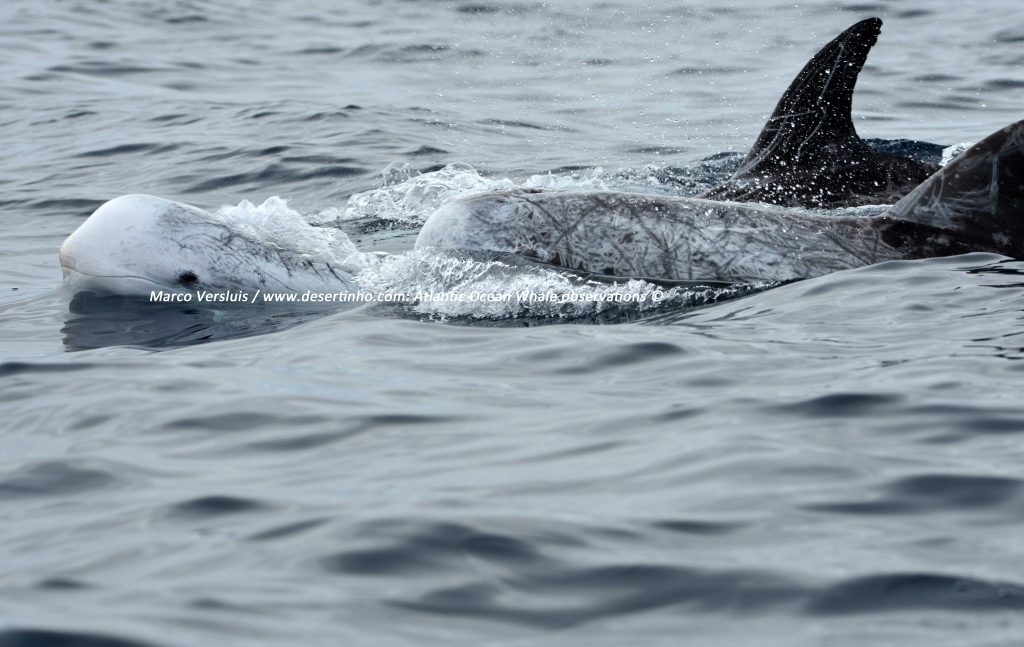 De grijze dolfijn (Grampus griseus) noem ik de "Golvenrijder" van de Atlantische Oceaan. Deze dolfijn, ook wel Gramper genoemd, is gemakkelijk te herkennen aan hun bolvormige kop net zoals de Griend en de Potvis. Naast hun bolvormige kop is deze dolfijnensoort te herkennen aan de enorme hoeveelheid littekens op hun lichaam. Hoe ouder de grijze dolfijn, hoe meer littekens. Deze littekens worden vooral veroorzaakt door hun prooi, die bestaat uit inktvis en lamprei, maar ook door veelvuldig onderling lichamelijk contact met de andere grijze dolfijnen binnen hun "Pod". Alle 3 de eerder genoemde tandwalvissen zijn zogenaamde "verticale jagers" wat betekend dat ze alle 3 diep moeten duiken naar hun voedsel dat hoofdzakelijk bestaat uit de diverse verschillende inktvissoorten die leven op verschillende dieptes. Grijze dolfijnen zijn actieve dolfijnen aan het water oppervlak, ze houden zich dan vooral bezig met springen, met hun flippers en staartvin slaan, en met "Spyhopping". Voor "Spyhopping" is geen Nederlands woord maar dit betekend dat ze alleen met hun kop boven wateroppervlak uit komen om te zien wat er om hen heen gebeurd. "Spyhopping" is gedrag dat meerdere tandwalvissen vertonen zoals de Potvis, de Griend, en de Orka. Van de Orka is bekend dat zij uitstekend boven water kunnen zien. Orka's zoeken dan naar zeehonden en pinguïns die op ijsschotsen rusten.
Hier volgt wat meer specifiekere informatie over de grijze dolfijn: Een volwassen grijze dolfijn weegt tussen de 300 en 500 KG en hun lengte varieert dan tussen de 2 en 4 meter. Het kalf van de grijze dolfijn weegt bij de geboorte gemiddeld 20 KG en is dan ongeveer anderhalve meter lang. Het kalf van de grijze dolfijn is, bij geboorte, bijna geheel grijs van kleur en heeft dan nog geen enkel litteken. Een kalf wordt eens in de 3 tot 4 jaar geboren na een draagtijd van ruim een jaar. Zodra het kalf ter wereld is dan zal het gedurende een periode van 15 maanden bij de moeder zogen. De gemiddelde leeftijd van de grijze dolfijn is ongeveer 35 jaar. Hun voedsel bestaat hoofdzakelijk uit diverse soorten octopus en lamprei. Grijze dolfijn duiken gemiddeld tot een diepte van 300 meter en kunnen dan maximaal 30 minuten lang onder water blijven. Op de eerste foto zie je 3 volwassen mannelijke grijze dolfijnen van ongeveer 25 jaar oud. De groep waar deze grijze dolfijnen deel van uit maken is wel bekend in de Azoren onder de naam "Inkepingbullen" van de S27 pod.