I'am so proud to share Desertinho Atlantic whale observation it's results for the Whale Photo-ID and Whale Observation projects I worked on in 2019! That year, I travelled more then 1000 nautical miles on the Atlantic Ocean, and did I observed more then 98 hours 11 different whale species. A great result together with amazing memories how beautiful whale conservation can be.
Clear observations of 11 Atlantic whale species:
In 2019, I finally achieved my ultimate goal to get over the 57% whale observations of all whale species that travel around the Equator and Northern Atlantic Hemisphere. Out of the 28 species that are passing by the Atlantic equator, or living permanent there I now have clear observations of 16 different whale species. That means that I have reached 57% clear whale observations of all whale species there since I started Desertinho Altantic Whale observations in 2013. Important to tell, and I never did that before, is that all whale species you see on my website are whales that I observed at least 10 hours per species.
Did the baleen whales their migration or not in 2019:
2019 was a very strange year for baleen whale observations. The question I asked myself many and many times was: "Did the baleen whales migrated at all this year or not"? The sightings of almost all baleen whale species was very poor in 2019 except for 1 species: The Sei whale! Normally the Sei whale appears in June but this year this big and beautiful whale appeared there already in March and stayed there until the end of November. The reason was that the Atlantic was "blue" and not "green" and that means an Ocean full of fish instead of krill.
Whale Photo-ID 2019: Sperm whale Photo-ID results:
In 2019, I photographed for the Atlantic sperm whale Photo-ID project 25 unique sperm whales from 3 different pods near the Azores. All 25 sperm whales ended up in the official Atlantic sperm whale catalog. In 2019, we identified 161 unique sperm whales in total which is a good result comparing to 2018 when we identified 118 unique sperm whales.
Whale Photo-ID 2019: Sperm whale 241 victim of a ship strike Canary islands.
Sperm whale 241… a sad, a so sad story! This female sperm whale was a well known sperm whale near the Azores and I almost had seen her growing up to a mature female. Unfortunately she was hit by a cruise ship this year near the Canary Islands and died. I will not publish the photos about her fatal accident on my blog but fact is that cruise ships has an enormous impact on all whale species. This year only near the Canary Islands there had been an explosive growth of ship collisions with whales. A big concern that you have to think about your self when you want to travel with a cruise ship. Please respect the whales and the whales are not prepared for cruise ships at all.
Whale Photo-ID 2019: Sei whale Photo-ID project joined!
In 2019 Desertinho Atlantic Whale observations joined another whale Photo-ID project namely the Sei whale Photo-ID project. Lately we see more and more Sei whales for a longer period of time near the Azores and Madeira and therefor I decided to join the Sei whale Photo-ID project. At this moment I contributed on behalf of Desertinho Atlantic whale observations more than 20 unique pictures of this beautiful baleen whale to this project. In 2019, it was a spectacular year for the observations of Sei whales near the Azores. The Sei whales were there already in March and the last individuals left the Azores in November. Normally the Sei whale appears in June and leaves the Azores in September to head out to the Arctic Atlantic areas.
Whale Photo-ID 2019: False Killer whale Photo-ID project joined!
2019 was also the year that Desertinho Atlantic Whale observations joined the Atlantic False Killer whale Photo-ID project. I had observed False killer whales myself several times but I never had the opportunity to observe them too well until now. For 2 days in a raw I observed a big pod of them near the coast line of Madeira island in winter time. The pod was about 60 to 70 individuals, and they were hunting on yellow fin tuna at the time.
Sloughing whales:
An exciting whale observation that year was the observation of a common fin whale that did not look that common to me at all. I observed that specific day 2 Fin whales traveling together, but they were completely different in their coloration. One of them was a real common Fin whale to me but the other whale looked really different in its coloration.
My first thought was that it was a Hybrid whale. When done with the all the other whale Photo-ID work I decided to share the photo about this common fin whale and it was a surprising result that I did not know. Common fin whales could have skin issues when entering tropical waters, and they begin to slough. Running through the whole photo series I could see it's chevron clearly and their typical triangular head form. The most important thing that confused me was that the Ocean was so blue that the right white lower jaw was very blue as well. Finally, you will see the photo of the "sloughing" common fin whale below, and we can see this more and more because of the global warming of the Ocean water.
Whale approaching offenses are getting worse in 2019:
In 2019 Desertinho Atlantic Whale observations encountered once again more severe whale approaching offenses. Within my blog I will attach one of the most impressive whale approaching offenses photo I have ever met. The situation was that a juvenile sperm whale was breaching for more than 9 times like its mother. A sailing boat noticed that and was purchasing both sperm whales all the time without respect for the sperm whales at all and they made 4 whale approaching offenses: Distance approach (1), not having a license (2) to be with the whales, and they were chasing them for hours (3). All these trespasses they made resulted in a serious fine on behalf of the government because all whales are protected species and you are not allowed to encounter them without permission.
Back to why the juvenile sperm whale and his mother why they were breaching at all. There was a reason for their behavior and that was that a bull sperm whale returned from the Arctic, and they were so happy to see him once again! Please remember, sperm whales do remember their family and friends for years! On the photo that I made you clearly can see the sailing boat that made his last and extreme whale offense! The sperm whale bull was blocked (4) by the sailing boat in his route and he had to dive just in front of the sailing boat. The photo I made was used for an official complained against the skipper and his crew to the government.
Nice to share is that we observed both sperm whales 2 days closely together and it is almost for sure that next year a newborn sperm whale will be born.
Finally, since this official complained that we made, including this photo, to the Portuguese government all boat rental organizations near the Azores are now working hard to give boat renting people information about the protection of whales together with the rules of whale watching.
Atlantic Mediterranean monk seal population decreased by 40% or not:
The latest news was that the Atlantic Mediterranean monk seal population was decreased by 40% in the past 2 years. This is really big and sad news because the past years the population of Mediterranean monk seals near Madeira was to be estimated to be 50 individuals together with a small genetic bases. Its not exactly clear about the observation results for the past years but it is a strange decrease about this species. The subtitle of this article ended with "or not" and the reason why I wrote that is that there are Mediterranean monk seals observed in lots of other areas than just ilhas Desertas. To be continued so to say.
Finally, This year a juvenile Mediterranean monk seal stranded upon the beach off Porto Santo (Madeira) and Desertinho Atlantic whale observations offered help to PNM ( Parque Natural da Madeira) because this juvenile Mediterranean monk Seal was too far under weight and was on a place with less fish and a lot of tourists. After thier lactation period every seal loses a lot of fat and that's quit normal. However this individual Mediterranean monk seal was really too skinny. After a couple of days this juvenile left Porto Santo him, or her, self and don't we know if it survived.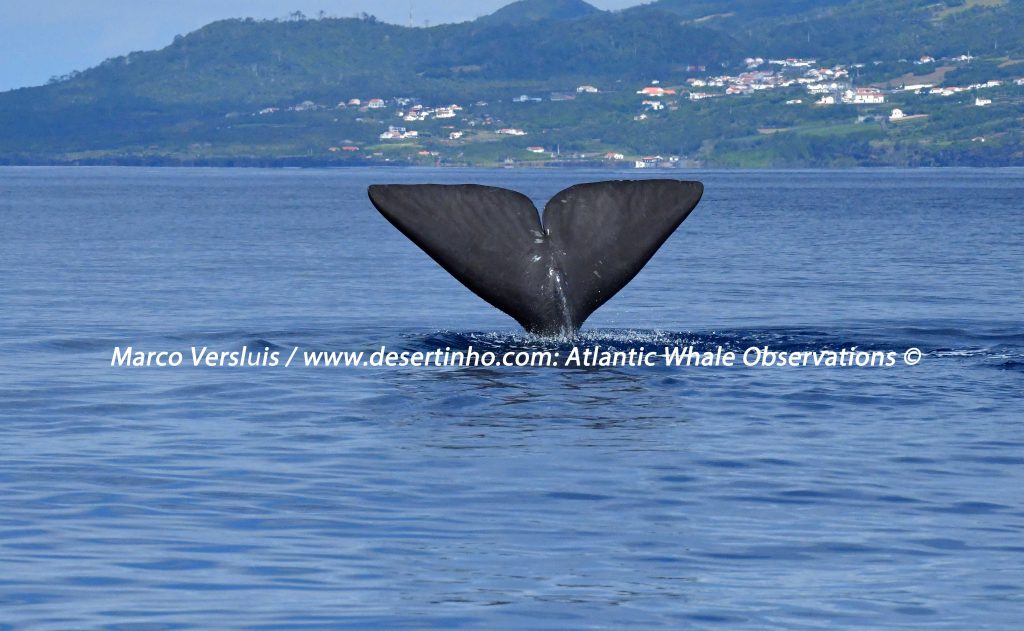 Desertinho Atlantic Ocean: Walvis Foto-ID 2019 en Walvis observatie resultaten 2019:
Met trots wil ik hierbij de resultaten van Desertinho Atlantic Whale observations "Bloggen" voor wat betreft de Walvis Foto-ID en Walvis Observatie project resultaten van 2019. In 2019 heb ik meer dan 1000 Nautische mijlen gevaren op de Atlantische Oceaan en heb ik in 98 uur 11 verschillende walvis soorten goed kunnen observeren. Een prachtig resultaat met bijzondere en blijvende herinneringen! Ik vind het zo bijzonder en mooi om walvissen te observeren in hun natuurlijke omgeving waar ze zichzelf zijn!
Duidelijke observaties van 11 Atlantische walvis soorten:
In 2019 heb ik 57% van alle walvis soorten gezien en gefotografeerd die voorkomen rond de Noord Atlantische Hemisfeer en evenaar. In dat betreffende gebied komen er 28 verschillende walvissen voor en heb ik nu duidelijke observaties van 16 verschillende walvis soorten bereikt. Dat betekent dus dat ik nu 57% duidelijke walvis observaties heb sinds ik Desertinho Altantic Whale observations ben begonnen in 2013. Heel belangrijk om te vertellen is, en dat heb ik nog niet eerder gedaan, dat alle walvis soorten die je op de site van Desertinho ziet dat ik alle 16 walvis soorten meer dan 10 uur heb geobserveerd om een duidelijk beeld te kunnen geven over hen.
Zijn de Balein walvissen wel gemigreerd in 2019 of toch niet:
2019 was een bijzonder maar ook een vreemd jaar voor wat betreft balein walvis observaties. De vraag is namelijk of specifiek balein walvissen wel gemigreerd zijn vanuit de pool gebieden of toch niet? Deze vraag heb ik mijzelf regelmatig gesteld. De waarnemingen van balein walvissen in 2019 waren er maar heel weinig in vergelijking met andere jaren maar er was 1 duidelijke uitzondering in 2019: de Noordse vinvis! Gewoonlijk komen Noordse vinvissen pas in Juni naar de Azoren maar dit jaar arriveerde de 1ste Noordse vinvis daar al in Maart en vertrok de laatste Noordse vinvis pas in November weer op weg naar de Poolgebieden. De reden hiervoor was dat de Atlantische Oceaan al heel vroeg "blauw" was en niet "groen". Als de Atlantische Oceaan namelijk blauw is dan is hij vol met vis in plaats van Krill.
Whale Photo-ID 2019: Potvis Foto-ID resultaten:
In 2019 fotografeerde ik 25 unieke potvissen voor het Atlantische Potvis Foto-ID project. Alle 25 potvissen kwamen uit 3 verschillende families en zijn allemaal geïdentificeerd in de buurt van de Azoren. Daarnaast zijn al deze 25 potvissen opgenomen in de officiële Atlantic sperm whale catalogus. De resultaten in 2019 waren dat we uiteindelijk 161 unieke potvissen hebben kunnen identificeren via walvis Foto-ID. Dit is een geweldig resultaat ten op zichtte van 2018 toen we 118 unieke waarnemingen hadden van deze walvissoort.
Whale Photo-ID 2019: Potvis 241 aangevaren bij de Canarische eilanden door cruiseschip:
Potvis 241: Wat een vreselijk bericht was dat in Februari 2019! Deze vrouwtjes potvis was een hele bekende potvis voor mij en heb ik haar meerdere keren gezien door de jaren heen in de buurt van het zuiden van de Azoren. Helaas is zij begin februari 2019 aangevaren door een cruiseschip bij de Canarische eilanden en is ze direct aan haar verwondingen overleden. Ik zal de foto's niet publiceren uit respect voor haar en het is wederom een aanvaring met een walvis door cruiseschepen. In 2019 alleen al zijn er meer dan 1000 aanvaringen geweest bij de Canarische eilanden met verschillende walvis soorten. Dit is een erg zorgelijke ontwikkeling en denk er aan wat voor impact cruiseschepen hebben voordat je zelf eventueel een cruise boekt.
Whale Photo-ID 2019: Noordse vinvis Foto-ID project gestart:
In 2019 is Desertinho Atlantic Whale observations aangesloten bij een ander walvis Foto-ID project namelijk het Noordse vinvis Foto-ID project. De reden waarom is omdat dat ik de laatste jaren steeds meer waarnemingen heb van de Noordse vinvis bij met name de Azoren en Madeira. Op dit moment heb ik namens Desertinho Atlantic Whale observations meer dan 20 unieke foto's van Noordse vinvissen kunnen leveren aan dit project en hebben we in totaal nu ruim 300 Noordse vinvissen kunnen identificeren. 2019 was werkelijk een spectaculair jaar voor wat betreft de waarnemingen van deze walvis soort in de buurt van de Azoren! Noordse vinvissen arriveren daar meestal pas in Juni maar dit jaar was de eerste waarneming al in Maart en was de laatste waarneming in de maand November. De reden hiervoor was overduidelijk en dat kwam door de enorme hoeveelheid makreel.
Whale Photo-ID 2019: Zwarte zwaardwalvis Foto-ID project gestart:
In 2019 is Desertinho Atlantic Whale observations ook aangesloten bij een Zwarte zwaardwalvis Foto-ID project. Zelf had ik maar een paar keer zwarte zwaardwalvissen kunnen zien maar had ik niet de mogelijkheid om hen goed te kunnen observeren tot de winter van dit jaar voor de kust van Madeira. Twee dagen achter elkaar was het eindelijk mogelijk voor mij om deze walvissoort goed te kunnen observeren en betrof het een pod van ongeveer 60 tot 70 zwarte zwaardwalvissen. De reden waarom er zo'n grote groep zwarte zwaardwalvissen aanwezig was kwam door de aanwezigheid van een enorme school geelvintonijn.
Gewone Vinvissen "vervellen" regelmatiger:
Een heel bijzondere walvis observatie dit jaar was toch echt de observatie van een vervellende gewone vinvis. Een gewone vinvis die op het eerste gezicht al totaal niet leek op een gewone vinvis is al erg bijzonder. Op de dag van de observatie zag ik 2 walvissen samen zwemmen die ik al snel classificeerde als gewone vinvissen maar toch was er iets bijzonders aan een van de 2. Toen beide walvissen boven kwamen bleek de ene gewone vinvis een totaal andere kleur te hebben dan de andere "gewone" vinvis. Ik dacht eerst aan een hybride walvis maar na goed onderzoek bleek het toch echt te gaan om een gewone vinvis die aan het vervellen was!
Mijn eerste gedachte was dus dat mijn waarneming een hybride walvis betrof (hybride betekend een kruising tussen bijvoorbeeld een Blauwe vinvis en een gewone vinvis). Na het raadplegen van andere walvis deskundigen bleek mijn waarneming een vervellende gewone vinvis te zijn. De verklaring hiervoor is dat gewone vinvissen steeds vaker beginnen te vervellen zodra ze in tropisch Oceaanwater terecht komen. Na grondig walvis Foto-ID onderzoek, met behulp van de gehele foto serie, van deze waarneming konden we uiteindelijk duidelijk de chevron en de typische 3 hoekige vorm van de kop van de gewone vinvis identificeren. Naast dat deze vinvis aan het vervellen was, was dat hetgeen dat mij in verwarring bracht zijn rechterkaak die heel blauw oplichtte in het Oceaanwater die dag. Daardoor leek zijn rechterkaak zo blauw, in plaats van wit, zoals je dat ook bij een Blauwe vinvis kan zien. Tot slot, na het raadplegen van mijn netwerk is onze conclusie dat we meer en meer vervellende walvissen gaan waarnemen vanaf nu door de opwarming van de Oceanen.
Whale watching overtredingen nog sterker toegenomen in 2019:
In 2019 heeft Desertinho Atlantic Whale observations wederom een grote toename gezien van het aantal whale watching overtredingen op de Atlantische Oceaan. In dit blog artikel heb ik DE foto (Juni 2019) geplaatst van een van de meest respectloze whale watching overtredingen ooit. De situatie op die dag was als volgt: Een potvis kalf sprong meerdere keren uit het water en zijn moeder deed precies hetzelfde maar dan 3 zeemijl verderop.
En nu komt het: Mensen op een gehuurde zeilboot hadden beide potvissen ook gezien en bleven het potvis kalf en zijn moeder steeds achtervolgen en maakte hierbij de volgende 4 overtredingen: De schipper van de zeilboot hield geen afstand (1) tot beide potvissen, de schipper van de zeilboot had geen licentie (2) voor whale watching en bleef ruim een uur (3) beide potvissen achtervolgen. Alle 4 deze overtredingen, mede dankzij mijn geplaatste foto op mijn blog, hebben geresulteerd in een grote boete voor de schipper doordat we dit direct hebben gemeld bij de Portugese regering. Walvissen zijn namelijk beschermde diersoorten die je niet zomaar mag benaderen en laat staan op deze manier!
Even terug naar het moment dat het jonge potvis kalf en zijn moeder uit het water sprongen en dan vooral de reden waarom ze dat beiden deden. Hier was namelijk een heel duidelijke reden voor. De reden hiervoor was de terugkeer van een mannelijke potvis die terugkeerde van zijn reis vanuit de Poolgebieden. Zowel de moeder als het kalf toonden beiden dit gedrag omdat ze enorm blij waren om hem weer terug te zien. Onthoud heel goed dat potvissen hun familie en vrienden hun hele leven herkennen en liefhebben. Tot slot op de geplaatste foto kun je zien dat de eerdergenoemde zeilboot uiteindelijk zijn laatste whale watching overtreding maakt. Op de gepubliceerde foto kun je heel duidelijk zien dat de zeilboot de weg blokkeert (4) van de mannelijke potvis waardoor hij vlak voor de boeg van de zeilboot moest weg duiken.
Heel bijzonder te vermelden is dat ik de vrouwelijke potvis daarna 2 dagen samen heb gezien met de manlijke potvis en dat het bijna zeker is dat er binnenkort weer een jonge potvis geboren zal worden.
Tot slot: Sinds deze melding wordt er nu hard gewerkt aan documentatie voor de huurders, en verhuurders, van boten in de Azoren die worden uitgerust met pamfletten en instructies voor wat betreft de regels die er zijn om hen uit te leggen dat walvissen beschermde diersoorten zijn en aan welke regels je je moet houden als je ze tegenkomt.
Atlantische Mediterrane monniksrob populatie verminderd met 40% of toch niet:
Het laatste nieuws van 2019 is dat de Atlantische Mediterrane monniksrob populatie bij Madeira en Ilhas Desertas met maar liefst 40% is afgenomen! Dit is werkelijk groot en ook verdrietig nieuws. Zo rond 2017 en 2018 was de populatie Atlantische Mediterrane monniksrobben daar geschat op 50 individuen die allen balanceren op een zeer smalle genetische basis. Het is niet precies duidelijk wat nu de reden is voor deze enorme daling in het aantal Atlantische Mediterrane monniksrobben daar maar het lijkt erop dat er bij de observaties er regelmatig dubbeltellingen zijn geweest. Dit laatste is (nog) niet te onderbouwen maar wordt zeker vervolgd.
Dit jaar was er tevens een jonge Mediterrane monniksrob gevonden op het strand van Porto Santo (eiland bij Madeira) die net van de zoogperiode af was. Deze Mediterrane monniksrob juvenile was na de zoogperiode zo teruggevallen in gewicht dat Desertinho Atlantic whale observations zijn hulp heeft aangeboden aan PNM (Parque Natural da Madeira). Na enige dagen, waarbij er helaas onvoldoende werd gedaan aan crowd management is het jonge dier uiteindelijk zelfstandig weer vertrokken en is het niet bekend hoe het verder met hem of haar is gegaan.